Bike Repairs, Servicing & Maintenance for the Sutherland Shire, Sydney Region.
Due to unusually high demand in our service department we are now taking bookings for any repairs. Please call to make a booking before bringing your bike in. For tyre/tube replacements we will do our best to get you rolling again while you wait. For this you do not need to make a booking.
Why wait days, or in some cases, weeks for your repairs? At Engadine Cycles and Scooters in the Sutherland Shire, all bicycle repairs are same day, or next working day. Our bicycle workshop repairs all Road bikes, Mountain Bikes, Hybrid bikes and BMX bicycles & Scooters. We also can also fix your flat or worn out pram tyres and tubes. Our bicycle mechanics are some of the most experienced bike mechanics in the Sydney region.
Bike repairs dropped in on Saturday can be picked up Monday afternoon.
All bicycle services are carried out using professional bicycle tools, greases, and lubricants.

Prices quoted for services are estimates only. Thus, prices may vary if other problems are found during the service. If the price variation is significant we will contact you for approval - otherwise we will go ahead with the repairs. Senior bike mechanic has 28 years experience in our workshop.
| | | | |
| --- | --- | --- | --- |
| Head set repack | from $15 | Hub repack | from $20 |
| Gear adjustment | from $25 | Brake adjustment | from $12.50 |
| Precision wheel truing | from $20 | Disc brake wheel truing | from $22.5 |
| Disc brake bleeding | from $25/brake | Recoil a dropout | from $30 |
| Fit a tube and/or tyre | from $10 | Recoil a crank arm | from $30 |
| Bicycle service | from $79 | Fit a bottom bracket | from $25 |
| - BMX bicycles | from $49 | Fit a chain | from $10 |
| - Geared bicycles | from $79 | Re tap a bottom bracket | from $25 |
| Frame strip and rebuild | from $130 | Fit a headset | from $20 |
| Annual overhaul | from $130 | Disc brake truing | from $15 |
| Precision wheel building | from $37.50 | Reface disc mounts | from $20 |
| Realign a frame | from $25 | Reface a bottom bracket | from $25 |
| Fit a suspension fork | from $35 | Disc brake adj & clean | from $25 |
| Pack a bike in a box | from $30 | | |
Standard bicycle service
Our standard bike service includes:
Alignment of derailleur hanger and adjustment of gears and lubing of gear cables.
Adjustment of brakes and lubing of brake cables.
Measure chain for stretch and report on life.
Lube chain and all pivot points.
Adjustment of wheel bearings, headset bearings, and bottom bracket bearings.
General check on tension of all bolts and screws.
Inflation of tyres to recommended pressure.
Minor in frame wheel truing.
Alignment of handlebars
General clean
Test ride
Annual overhaul
An annual overhaul includes everything in the Standard Bicycle Service plus the following.
Full clean, grease, and repack of both front and rear hubs.
Full clean, grease, and adjustment of the bottom bracket.
Full clean, grease, and repack of the headset.
Full clean and re-lube of the drive train.
Test Ride.
Wheel Truing
All bike wheel repairs are carried out using either DT, Sapim, or Wheelsmith plain gauge or double butted spokes. The double butted spokes can be either plain stainless steel or black.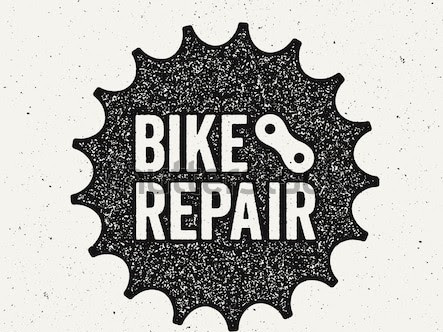 ---