XDS E-Rupt GS Electric Mountain BIke
$2,799.00
100% SECURE - Pay with Paypal or all major credit cards
XDS E-Rupt GS Electric Mountain BIke

This bike comes with 12 Months free service. This bike is sold in store only.
This is the latest version that now comes with the Gear sensor that cuts power when changing gears. This greatly extents chain and drive train life and gives much smoother gear changes.
The Mid-Drive System used on the E-Rupt is excellent for out-putting big amounts of torque, applicable for everyday commuting, climbing hills and powering through unfavourable terrain. Instead of individually powering the front or rear wheel through a single-speed conventional hub motor, the highly acclaimed Bafang MAX-01 allows you to take advantage of the bike's drivetrain, and sends power through the gearing to efficiently amplify your power seamlessly.
Mid-Drive Advantages:
• More predictable control and speed
• Equal Weight Distribution (Fitted in the middle)
• Better power efficiency
A great electric bike needs a great battery to work. The E-Rupt comes with a big 36v 2900mAh Panasonic cell to keep you going and going. Safety tested to strict international standards and comes with intelligent protection board for longevity and durability.

Experience the unparalleled stopping power of hydraulic disc brakes, capable of bringing you safely to a halt in any conditions. Hydraulic disc brakes are more reliable than their mechanical counterparts and afford riders greater control with less effort required.

When shifting gears, riders should reduce torque through the drivetrain for a smoother transition. Typically, electric bikes emit torque five times higher than riders are capable of producing on their own, so regularly shifting gears at high speeds can be damaging to your drivetrain. The Gear Sensor briefly cuts out the motor when changing gears to provide a more secure shift and prolong the life of your drivetrain.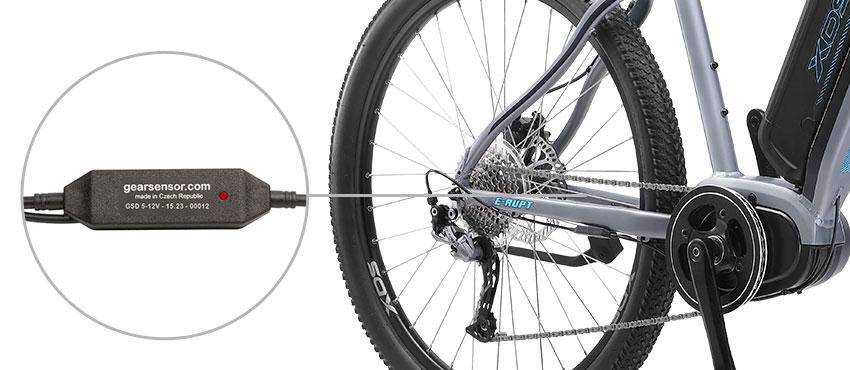 ---