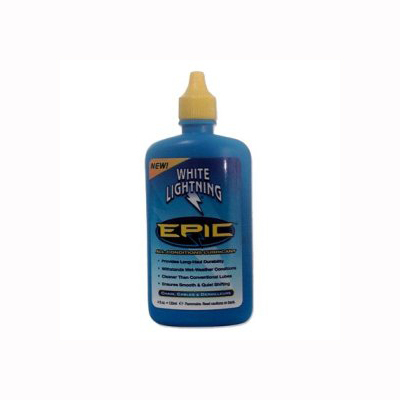 White Lightning Epic
On Sale
$18.95
$23.50

White Lightning Epic

A Light Bodied Synthetic Lubricant
Extreme Durability, Smooth Shifting & Quiet Riding  In All Riding Conditions
Epic Ride is an excellent all-conditions bicycle lubricant that satisfies the demands of road and off-road cyclists.
Because epic ride is uniquely formulated with non-petroleum based
synthetic oils, it provides long haul durability without the excessive
grime build-up common with conventional synthetic and non-synthetic
wet-style lubricants. This unique technology was awarded a patent in
1999.
In a very short period of time, Epic ride has become a top seller
and the lubricant choice for riders seeking the performance of a
wet-style lubricant and the cleanliness of a dry-style lubricant.
---