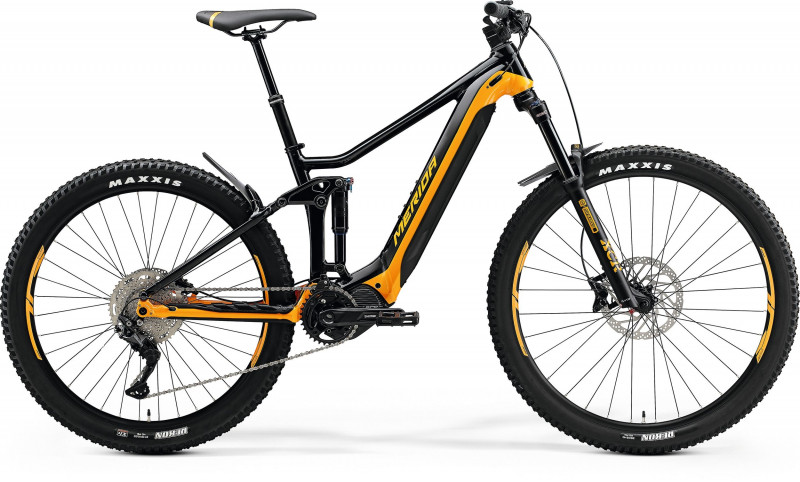 Merida eOne Forty 400 Dual Suspension Electric Bike
On Sale
$4,449.00
$6,499.00

Merida eOne Forty 400 Dual Suspension Electric Mountain Bike

The Merida eONE-FORTY 400 is a rugged trail eMTB that proves you don't need to break the bank to enjoy adventurous rides. It features a tough aluminum frame with a sleekly integrated 630 Wh battery and is powered by the refined Shimano EP8 drive unit. With Suntour suspension and a mixed wheel size setup, it offers excellent off-road capabilities along with agile and enjoyable handling. The bike is equipped with quality components such as a wide range Shimano drivetrain and powerful four-piston brakes, ensuring control and reliability.
At our bike shop, we not only offer the Merida eONE-FORTY 400 but also provide 12 months of free servicing on all electric bikes. We believe in ensuring that your electric bike remains in optimal condition for your continued riding pleasure.
Merida is a renowned bicycle manufacturer with a rich history. They have gained recognition for their high-quality bikes and innovative designs. Merida not only produces bikes under their own brand but also manufactures bikes for other well-known brands. Their expertise in bike manufacturing has made them a trusted partner for producing bicycles that meet the standards and requirements of various big brands.
It's important to note that Merida bikes are Taiwanese made, with production facilities in Taiwan. The country has a strong reputation in the cycling industry, known for its high-quality manufacturing and expertise. Merida's Taiwanese origins are a testament to their commitment to producing top-notch bicycles that cater to the needs and demands of cyclists worldwide.
Tough all-aluminium chassis with integrated 630 Wh battery Powerful Shimano EP8 drive unit. Mixed wheel size setup with 140/130 mm travel split. Quality Suntour air suspension. Wide range Shimano drivetrain. Powerful four-piston brakes
Made in Taiwan
SPECIFICATIONS
BRAKES Shimano M4100

FRAME eONE-FORTY LITE III
FRAME SIZE S, M, L, XL, XXL
FORK Suntour XCR34 LOR DS
COLOR BLACK/ORANGE
SHOCK SUNTOUR RS-EDGE-TR-LO-R8-M6
DRIVE UNIT Shimano DU-EP8
DISPLAY Shimano SC-EN500
BATTERY Shimano EN806 630Wh
DERAILLEUR (R) Shimano Deore RDM5120 10
ROTORS Shimano RT30 / Shimano RTEM300
SHIFTER FRONT Shimano SL -MT500-L clamp band
SHIFTER REAR Shimano Deore M4100-RC1 clamp band 10
BRAKE FRONT Shimano M4100
BRAKE REAR Shimano M4100
CHAINWHEEL Shimano CRE70-B
CHAIN KMC e10s
CRANK Shimano FCEM600
HUB FRONT Shimano MT400-B
HUB REAR Shimano MT400-B
RIM MERIDA COMP TR
FREEWHEEL Shimano M4100
TYRE FRONT MAXXIS REKON
TYRE REAR MAXXIS REKON
SPOKES Black stainless
HANDLEBAR STEM MERIDA EXPERT eTRII
HANDLEBAR MERIDA EXPERT eTR
HEADSET MERIDA-8152
SEAT POST MERIDA COMP TR
SADDLE MERIDA COMP SL
FENDER C093-02F + C093-02R
LIGHT FRONT CG-119PG-BLACK(1)
LIGHT REAR CG-404RG-BLK
---