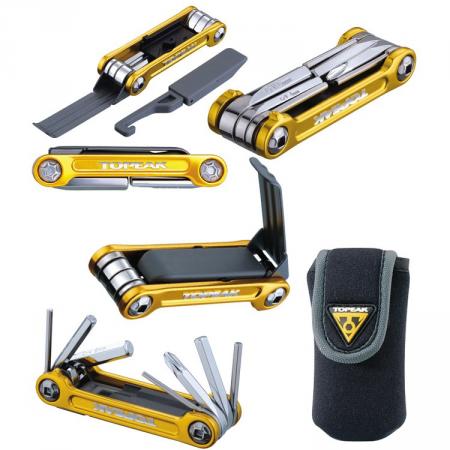 Topeak Mini 9 Pro Multitool
$34.95

Topeak Mini 9 Pro Multi Tool

The Mini 9 Pro features 9 precision tools folded into a sleek, machined body.
The rigid, high-strength forged alloy body resists torque during hard use and its pro-quality
hardened steel tools are built to last.
An integrated, folding tire lever secures inside tool body for a streamlined profile.
The small size hides in a jersey pocket or saddle bag and is the minimal repair solution
for long road rides or endurance mountain biking.
Tools
9 total
Allen Wrenches
2/2.5/3/4/5/6/mm
Tire Levers
1 Hardened Steel*
1 Foldable Engineering Grade Plastic
*The metal tire lever is designed for durability and for emergency use only
Screw Drivers
#2 Phillips
Tool Material
Hardened Steel
Bag Material
Neoprene
Size (L x W x H)
7.6 x 2.6 x 1.6 cm
3� x 1� x 0.6�
Weight
73 g / 2.57 oz
---