Envy KOS Charge Scooter S6 2021
On Sale
$265.00
$399.00

2021 Envy KOS Charge Series 6 Scooter
The Envy KOS Charge is back with the new Series 6 and its got some seriously upgraded pro level parts, all built into one killer complete scooter. Suitable for any level rider but focused on the  intermediate to advanced rider needing the whole package straight out of the box. 
The new model KOS Charge has an all new deck with a forged one piece headtube for increased strength, new alloy bars and forks that will fit the fat 30mm wheels that are now appearing on the market.
(Total height of this scooter from the ground to the top of the bar is 91cm)

KOS Charge Series 6 Specifications.
-NEW OIL SLICK 6 Series ALU KOS deck | angle 82.5 | width 125mm/4.9" | length 510mm/20.5" |Bolt on Nylon Brake system, Front Plate, Rear Inserts & Boxed Ends 
-Revitalised DECLARE V2 IHC ALU forks. Compatible with up to 30mm wide wheels 
-7 Series BULL Alu bars 650mm/25.6" high x 580mm/22.8" wide 
-TPR hand grips 160mm long with nylon bar ends 
-Two Bolt One Piece FORGED Oversized Clamp - 6mm bolts 
-Fully Sealed Integrated Headset 
-Charge Hologram 120mm hollow core 86a/26mm PU ABEC 9 Bearings 
-Nylon front plate and rear inserts 
-High quality grip tape 
-Weight 3.85kgs/8.4 Pounds 
-Total Height: 900mm/35.4
-Total Length:700mm/27.5
-Foot Space: 350mm/13.8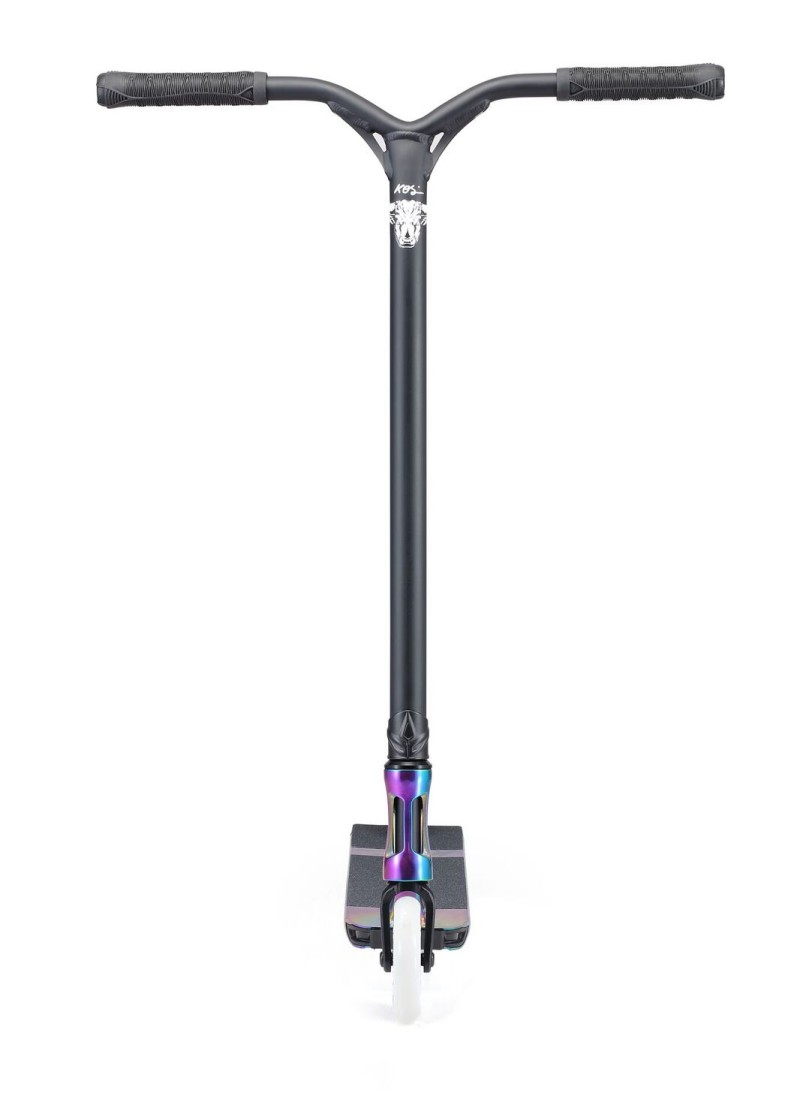 ---