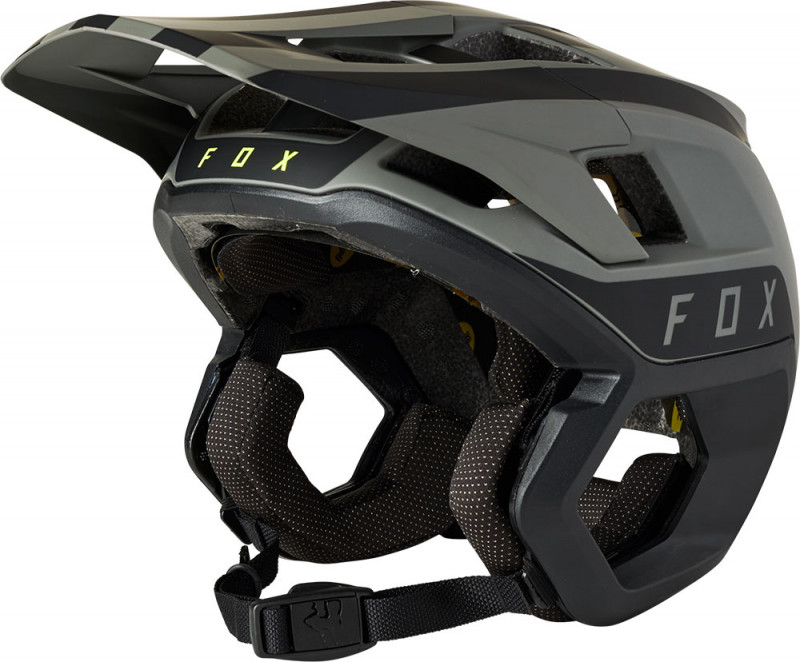 Fox Dropframe Pro Mips MTB Helmet
On Sale
$249.00
$299.00
Fox Dropframe Pro Mips MTB Helmet

This game-changing open faced enduro helmet features the dual-density Varizorb™ EPS liner and Fox's proprietary M.O.RE. (Mandibular Occipital Reinforcement) guard design. M.O.RE provides more coverage for the ears, jaw, and back of the head. This combination provides the most complete coverage offered in an open face helmet.

The protection systems for this Helmet involve MIPS' added protection system which has been proven to reduce the rotational motion when implemented in a helmet by absorbing and redirecting energies and forces otherwise transmitted to the brain, and Dual-density Varizorb EPS which provides improved protection by spreading forces of impact across a wider area.
Comfort

Ventialation is provided by the 8 Big Bore vents and 7 exhaust vents designed to keep you cool and aid in moisture management. The securely fixed visor is positioned to channel airflow into the Big Bore vents. The Fidlock® SNAP helmet buckle provides quick and secure entry and exit even while wearing gloves. The liner is removable, antimicrobial, washable and moisture wicking. Additional pads for custom dialed fit are included.
Confidence

Fox's maximum coverage trail helmet featuring ear protection and open face ventilation is ideal for riders wanting to shred the trails and have more fun with an extra level of confidence.
Australian Standard Certification

All bicycle helmets sold in Australia must have the Australian Standards currently it's AS/NZS 2063:2008, all fox helmets are tested to this standard.
Features

• Custom Dialed Fit: Includes additional pads for custom dialed fit
• 8 Big Bore vents and 7 exhaust vents
• MIPS: Dual density impact absorption
• Dual-Density Varizorb EPS: provides improved protection
• Visor: securely fixed
• Fidlock® SNAP Helmet Buckle: easy, glove ready entry and exit
• Liner: Removable, washable, antimicrobial, moisture management
• Australian Standard: AS/NZS 2063:2013
---