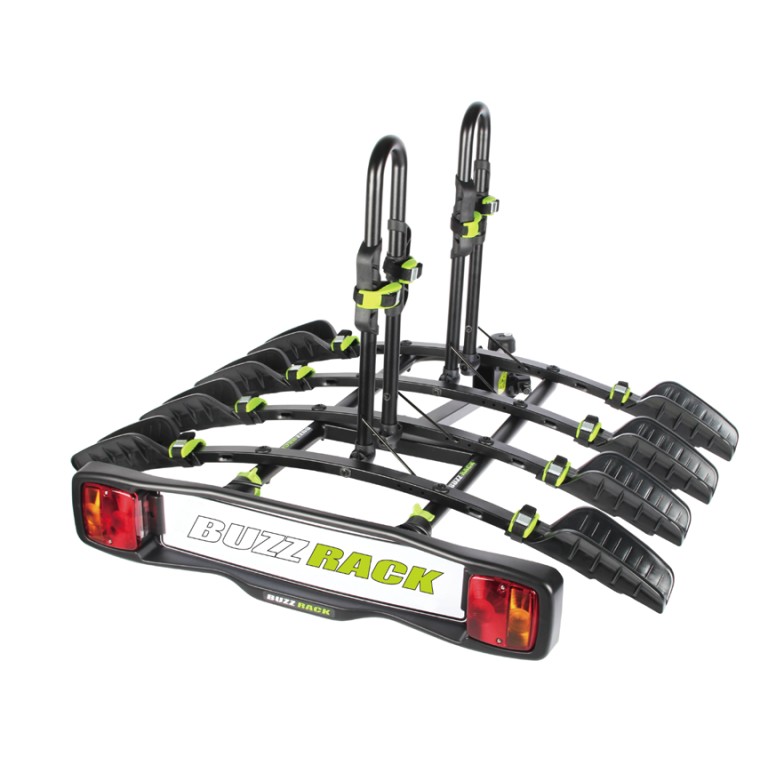 Buzzrack Buzzybee 4 Bike Platform Rack
$530.00
100% SECURE - Pay with Paypal or all major credit cards
Buzzrack Buzzybee 4 Bike Platform Rack
he BuzzyBee 4 is a very simple and easy product to use to carry 4 bikes on a tow ball. The light frame will securely transport 4 bikes for a very affordable price.
The maximum permitted load you can carry is also determined by the tow bar nose weight; you will need to check you don't exceed this before using any tow ball mounted bike carrier.Requires 65mm clearance from center of tow ball to rear of vehicle.If you have a 7 pin socket the reversing light and fog light will not work.The 7 pin socket isn't wired for these functions

TECHNICAL SPECIFICATIONS
Max number of bikes: 4
Fits bolt-on tow ball: yes
Fits swan neck / detachable tow ball: yes
Dimensions (width x depth): 114cm x 93cm(measured from the centre of the tow ball mount to the outside edge of the number plate holder).Dimensions (folded): 114 x 96 x 19cm
Weight: 14.7kg
Max load capacity: 60kg
Max weight per bike: 15kg
Tilting: no
Integrated lighting board: yes with quick release system
Lighting board plug type: 7 pin
Bike carrier to tow ball lock: yes
Bike carrier to bike lock: no
.
---