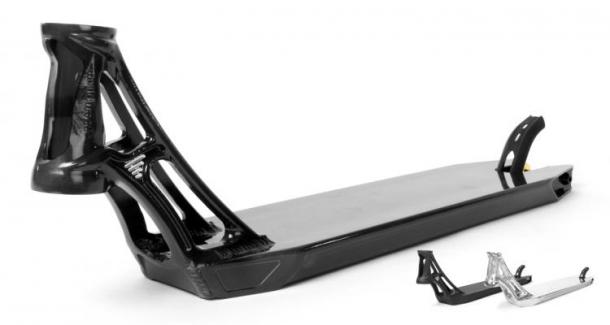 Ethic Pandemonium Deck
On Sale
$299.00
$350.00

Ethic Pandemonium Deck
Pandemonium Technical specifications :
Material : Alu 6061 T6
Length :  530 mm (20.9 inch) or 490mm
Width : 120 mm (4.7 inch)
Angle : 83
Colors: flat black / brushed transparent black / polished
Weight : 1180 g (41.6 ounces)
After 2 years of development, Ethic's latest fury is finally dropping, & we are proud to bring such an amazing deck to riders all over the world.

Their goal with Pandemonium was to offer a new type of deck; we wanted it to surpass the existing decks in terms of reactivity.

We think they reached their goal, with 120mm width & a wide profile its more stable on rails & curbs. 
However, thanks to a better conception and a new heat treatment, its still lighter, stronger, more comfortable and well balanced.
The new brake technology made of nylon molded on steel, brings a real difference compared to our previous brakes.
Nothing will ever be the same again.
---