Globber 5 in 1 Evo Comfort Kids Scooter
On Sale
$155.00
$220.00
100% SECURE - Pay with Paypal or all major credit cards
Globber 5 in 1 Evo Comfort Scooter 2018
The new Globber 5 In 1 Evo Comfort Kids Scooter ($155) is the the latest version of the old 5 in 1 scooter and is Globber's latest scooter designed to grow with your child. The main improvements in design over the old 5 in 1 are the adjustable seat height and an extra wide ergonomic seat for improved comfort. The adjustable seat makes it easy for the child to adapt as they grow and the extra wide seat will provide maximum comfort. When in scooter mode you the bar has 4 height adjustments for years of enjoyment. The new design is also stiffer than the old version which means less flexx in the handle when pushing and steering the child.
Just add the stick/handle and Mum can guide or push her child from 12 months with the foot rests installed. As they get taller you can remove the footrests and even the handle so the child may propel themselves. Then when they are confident enough and tall enough it can be converted into a scooter and they will be able to enjoy many years of use and enjoyment.
Weight Limit
Scooter Mode Passed 50kg Standard (Tested ok up to 65kg)
Seat/Bike Mode 20kg
Scooter Height adjustable from 65.5cm to 82.5cm
3 seat height positions
Reasons to change to Globber
Safer Learning
- The Globber has a steering lock button on front of deck (safe and simple handling) for steering locking system to make learning easier.
Height Adjustable - Height adjustable T-BAR handlebar which can be adjusted to different height positions as the child grows. The bar will go lower or higher as they grow. Also new for the 2018 version is the new adjustable seat height for an even better fit.
Strength - X-CROSS deck design, strengthens the deck structure and improves directional turning performance to the T-BAR handlebar.Globber will take up to 65kg, double its main competitor.
Steering - The directional pivots (supports on the front wheels) are mounted on fully sealed bearings for easier assisted steering and longer wearing.Appearance - The Globber has a dual injected deck (Two-tone with two colour materials)
- NEW 5 in 1 Easy Direction Control Scooter
- Seat is fixed by Nylon Supports on Scooter and is adjustable for seat height.
- Double Injected ergonomic Seat with even more Bar Support than the older 5 in 1
- Double Injected Hi-impact Deck with Removable Cover and Anti Slip Material (Tread Size is 30cm) Includes the Trademark GLOBBER Steering Construction with Lock
- 26cm Wide Aluminium T Bar in Matt Finish which extends from 64cm up to 82.5cm in Height
- Double Injected TPR Handlebar Grips
- Transparent PU Hi-rebound 82A Wheels (120mm on Front - 80mm on Rear) with ABEC 5 Bearings
- High Impact Single Injection Rear Brake
Recommended ride-on age range: 1 - 3 years
Recommended scooter age range: 2 - 6 years (dependent on child's confidence level)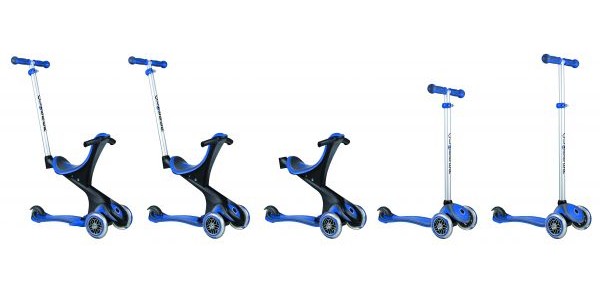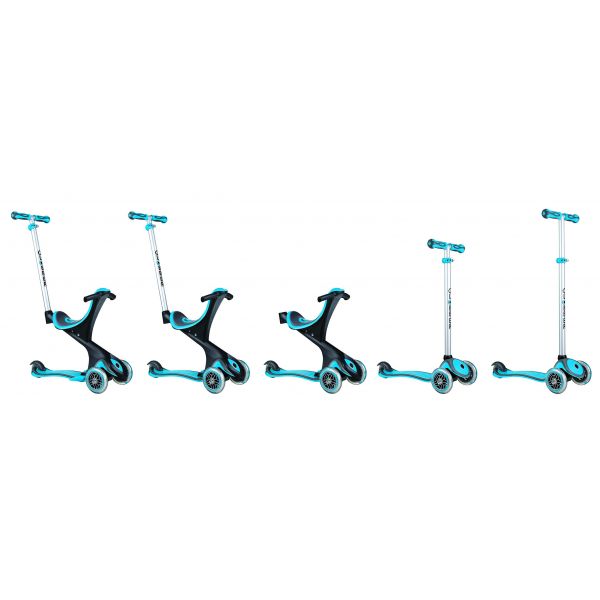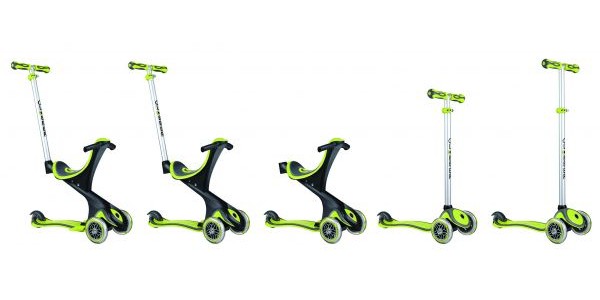 New wider more ergonomic seat for comfort.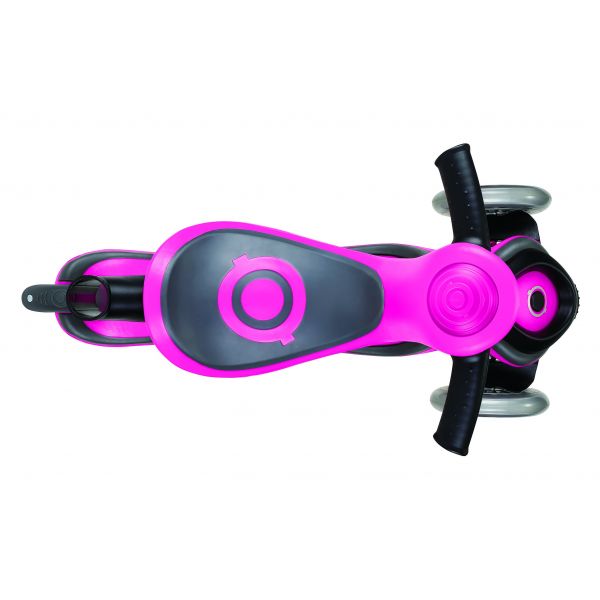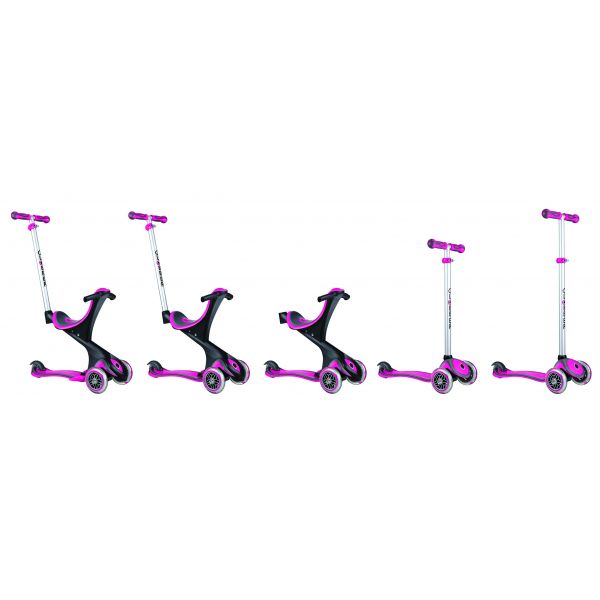 ---